This page is dedicated to all of our commercial sponsors. If you would like information on becoming a sponsor or would like us to endorse your product, please email us at poconofishingadventures@yahoo.com. We would like to personally thank each and every sponsor for all the hard work and time they have put in to our mutually respective relationships. Click on a logo for sponsor's web page.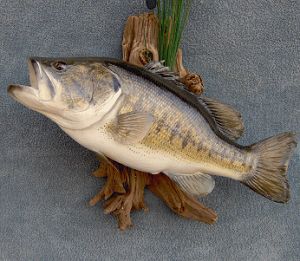 Using the most up to date techniques on your skin mounted fish, to ensure a lasting work of art. Concentrating on accurate anatomy and coloration of your trophy.
The highest quality reproductions are available for the catch and release angler. You provide the memory and I will make it last forever. I support catch and release.
18 years experience in JUST FISH Taxidermy. Licensed by the state of Pennsylvania. Member of the North Branch Smallmouth Alliance(NBSA).
Serving - Fishermen, Guides, Charters, Collectors, Decorators Restaurants, and anyone else interested in fish taxidermy
Spirit-ts.com our one stop shop for all types of custom created clothing, outdoor wear, vinyl graphics, banners and so much more.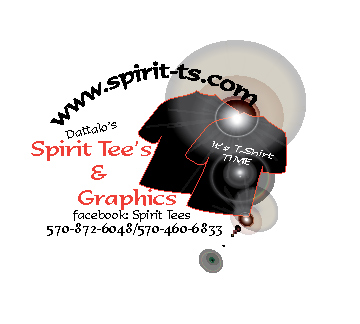 We specialize in CUSTOM Designs that are applied to almost anything. We do Shirts, and other apparel as well as Window and Vehicle Graphics. We like to provide small orders that other Screen Printers won't do or charge to much to do. We aren't your ordinary screen printer as we do heat applied vinyl to our shirts, which simply means the logo will last longer then the shirt, but none the less, we do provide screen printing , digital transfers and transfer also. (like the ones you see down at the beaches). Banners, Signs, Stickers, Wall Graphics and More. Just ask we may do it. We aren't looking to take business from anyone, we just want a share of the market. We don't specialize in any particular type of Client, we like to service all that need our services. We have competive rates and a fast turnaround
JJ's Jigs is a family-owned business near Route 6 in Towanda, PA. They boast a wide array of jigs and flies for all species of fish in warm and cold freshwater, including ice-fishing jigs. JJ's Jigs is owned and operated by Dave and Karin Pelachik with the help of their two sons. Their sons are the "JJ" behind the name JJ's Jigs: Joel + Joshua = "JJ's".

JJ's Jigs constantly creates new and unique patterns for anglers such as the famous Booger Series Jigs, the irresistible RiverKing Crayfish Jig, Tiger Perch Jig, Hellgrammite Jigs, and the Grubber Series of Jigs. As well as a whole host of flyfishing flies aimed at bass, pike, walleye, and muskie flyfishing. Karin credits Dave with great product lines and angler's intuition, his strength's are visible, he is the expert tyer and the spark of creativity within JJ's Jigs. She feels it shows in the work Dave does, he is always coming up with new inventive patterns. All of our customers know that we give 110 percent into each jig we tie. "We strive to make the perfect jig each time, every time."
Looking for some of the best pizza around??? Look no further, we proudly serve our full day fishing charter patron's Pizza Como Pizza for lunch. With really good prices and service your next meal is sure to be a great one with Pizza Como.